Two People Dead After Ironwood Fire
Fire Being Investigated as Suspicious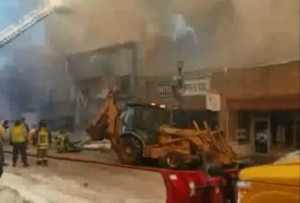 IRONWOOD, Mich. -Two people are now dead, while one is still unaccounted for, after a fire in the early morning hours Wednesday at a business and apartment complex in Ironwood, Mich. Three people were also injured in the incident, according to this report.
That information was told today to Fox 21 by the Ironwood Public Safety Department. Authorities are now calling the fire suspicious at Chelsi's Corner.
An autopsy is scheduled to determine the identities of both victims.
The investigation is continuing today which includes the fire marshall from Ironwood, Michigan State Police, and the Bureau of Alcohol, Tobacco, Firearms, and Explosives.
The fire got so bad Wednesday that schools had to close in that region due to poor air quality.