Governor Dayton Urges Passage of MinnesotaCare Buy-In
WillgGive Minnesotans Another, More Affordable Choice for Health Insurance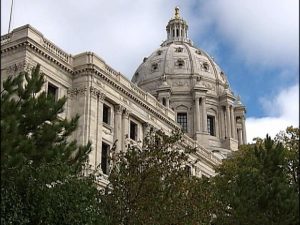 ST. PAUL, MN – Governor Mark Dayton today urged state legislators to support and pass a "MinnesotaCare Buy-In" option this session.
The proposal would allow all Minnesotans the choice to purchase their health insurance through MinnesotaCare – a state program that for 26 years has provided some eligible working Minnesota families a more affordable choice to purchase their health care.
By giving every Minnesotan this choice, MinnesotaCare Buy-In would expand health care choices for Minnesotans everywhere in the state, increase competition in the individual health insurance market, and save Minnesotans money.
The need for MinnesotaCare Buy-In was underscored by recently released data showing that Minnesota's uninsured rate increased by 46 percent last year alone, due in part to rising insurance costs, leaving approximately 349,000 Minnesotans without coverage in 2017.
MinnesotaCare Buy-In would provide an estimated 100,000 Minnesotans, particularly Greater Minnesota residents, another more affordable choice for health insurance
The program would be funded by enrollee premiums, requiring Minnesotans to pay their own way for coverage while limiting costs for taxpayers to initial start-up expenses
Rising insurance costs and limited choices have caused Minnesota's uninsured rate to increase, adding to the urgency of giving all Minnesotans another more affordable choice for coverage.
"MinnesotaCare Buy-In would bring needed stability to the individual insurance market. It would ensure that people who buy their own insurance – farmers, small business owners, entrepreneurs – have at least one option for affordable, comprehensive coverage," said State Sen. Tony Lourey.