Walmart, Dick's expand corporate rift with gun lobby
Walmart follows Dick's in saying it will no longer sell firearms and ammunition to people younger than 21.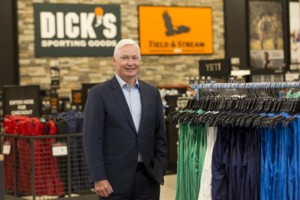 NEW YORK (AP) — The rift between major U.S. companies and the gun lobby is growing..
Retail heavyweights Walmart and Dick's Sporting Goods have taken steps to restrict gun sales. That follows moves by several other major corporations, including MetLife, Hertz and Delta Air Lines, that have cut ties with National Rifle Association following last month's school massacre in Florida.
Dick's said Wednesday it will immediately stop selling assault-style rifles and ban the sale of all guns to anyone under 21. Its CEO took on the NRA by demanding tougher gun laws.
Walmart, the nation's largest retailer, followed by saying it will no longer sell firearms and ammunition to people younger than 21. It had stopped selling AR-15s and other semi-automatic weapons in 2015.
"When we saw what the kids were going through and the grief of the parents and the kids who were killed in Parkland, we felt we needed to do something," Dick's Chairman and CEO Ed Stack said on ABC's "Good Morning America."
The announcements from Dick's and Walmart drew hundreds of thousands of responses for and against the moves on the companies' social media accounts.
Dick Sporting Goods had cut off sales of assault-style weapons after the 2012 Sandy Hook Elementary School shooting. But sales had resumed at its smaller chain of Field & Stream stores, which consisted of 35 outlets in 16 states as of October.
On Wednesday, Stack said that would end, and he called on lawmakers to act now.
"We support and respect the Second Amendment, and we recognize and appreciate that the vast majority of gun owners in this country are responsible, law-abiding citizens," Stack said in a letter. "But we have to help solve the problem that's in front of us. Gun violence is an epidemic that's taking the lives of too many people, including the brightest hope for the future of America — our kids."
Walmart said it was also removing items from its website that resemble assault-style rifles, including airsoft guns and toys. "Our heritage as a company has always been in serving sportsmen and hunters, and we will continue to do so in a responsible way," the retailer based in Bentonville, Arkansas, said.
___
AP Retail Writers Anne D'Innocenzio and Joseph Pisani contributed to this report. Associated Press reporter Carrie Antlfinger contributed from Brookfield, Wisconsin