How to Keep Your Kidney Healthy
March is national kidney awareness month.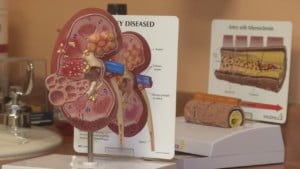 DULUTH, Minn.- March is National Kidney Awareness month, which means medical professionals are working hard to remind the public of just how important kidney care is.
Chronic kidney disease is a prevalent issue in the United States.
Medical professionals say its gaining more awareness in recent years. The biggest concern are people with high risk factors such as high blood pressure and diabetes.  According to the National Kidney Foundation 30 million adults in America have chronic kidney disease. Medical professionals at the University of Minnesota Medical Campus in Duluth say early detection can change the course of the disease.
"If you're diagnosed early, doctors can be aware of which medications you should or shouldn't be on," professor of medicine Dr. Amy Greminger said. "There are some medications they can put you on to help protect the kidney, there can be screening, and working on underlying problems."
Screening can be done through blood and urine testing.
Medical professionals say its very important for high risk people to get screened, CKD can often go undetected. It can cause serious issues such as heart attack, nerve damage, and stroke.
Medical professionals say the best way to keep your kidney healthy; is stay hydrated, active, and always let your doctor know the medications you are taking.