Canal Park "Blue Bridge" Closed for Updates
Slip bridge getting new paint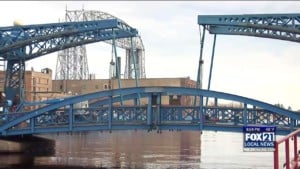 DULUTH, Minn. – The Canal Park Slip Bridge, also known as the "Blue Bridge," will be closed to the public starting today and will stay closed until May 3.
The bridge will be getting a fresh coat of paint which entails encapsulating the bridge, then sandblasting the old paint before applying new "teal" colored paint.
The Minnesota Slip Bridge was retrofitted in spring of 2017 with customer manufactured parts and a new rack and pinion system to ensure reliable operations and public access.
The painting project is the final step in renewing the Slip Bridge which thousands of people utilize each year.