One Student Dead, Another Hurt by gun in Alabama High School
metal detectors and other security measures failed to keep students from handling a gun in a classroom.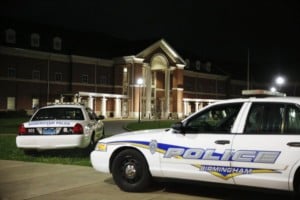 BIRMINGHAM, Ala. (AP) – Birmingham closed one of its largest schools for a thorough safety sweep Thursday after metal detectors and other security measures failed to keep students from handling a gun in a classroom where one 17-year-old was fatally shot and another wounded in an apparent accident.
"We consider it accidental until the investigation takes us elsewhere," Wilson said. "We have a lot of unanswered questions. There are so many unknowns at this time."
The gun was recovered, but Wilson declined to say who fired it. No arrests were immediately reported.
The young woman killed was a senior, about to turn 18 and had been accepted to college, with "aspirations and dreams to be a nurse."
The chief said he had not been told of any kind of argument, fight or struggle that preceded the shooting, which also wounded a 17-year-old junior.
The shooting prompted a brief lockdown, with students and teachers sheltering in place. Wilson also confirmed that metal detectors were in place and functioning in the school. "This should not happen in schools," he said.
Birmingham City Schools Superintendent Lisa Herring announced late Wednesday night that school will be closed Thursday, to give authorities time and space for a thorough security sweep and enable collaboration with community organizations to counsel students and staff.
Gov. Kay Ivey said she's "praying for the family of this young lady who has tragically lost her life way too early … it reaffirms that there is no place for students to have firearms or other weapons on campus."
The shooting happened the day after Ivey created a school safety council to make recommendations on security in Alabama's schools, including updated threat plans and training for students and staff on emergency situations.
Alabama lawmakers have proposed multiple measures in response to last month's killings of 17 people at a Florida high school. Republicans would arm either teachers or volunteer security forces in schools. Democrats would limit or ban the sale of assault weapons. All these proposals face a tight deadline before the end of Alabama's legislative session this election year.