Five dead in NYC Helicopter Crash
Pilot in NYC crash called 'mayday,' cited engine failure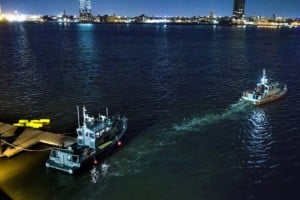 NEW YORK (AP) — A pilot who survived when his helicopter went down in Manhattan's East River, killing five passengers, said in an emergency radio transmission that he had engine failure.
The pilot is heard saying "Mayday, mayday, mayday" during the crash on Sunday night. The pilot reported "an engine failure over the East River" and referenced a hotel, while the person at the other end of the transmission had trouble making out what the pilot was saying.
The pilot freed himself and was rescued by a tugboat, but emergency divers had to remove the passengers on the charter helicopter being used for a photo shoot from tight safety harnesses while they were upside down, Fire Commissioner Daniel Nigro said.
"It took a while for the divers to get these people out. They worked very quickly as fast as they could," Nigro said. "It was a great tragedy that we had here."
The National Transportation Safety Board dispatched investigators on Monday.
Video taken by a bystander and posted on Twitter shows the red helicopter land hard in the water and then capsize, its rotors slapping at the water.
Witnesses on a nearby waterfront esplanade said the helicopter was flying noisily, then suddenly dropped and quickly submerged. But the pilot appeared on the surface, holding onto a flotation device as a tugboat and then police boats approached.
"It was sinking really fast," Mary Lee, 66, told the New York Post. "By the time we got out here, we couldn't see it. It was underwater."
A Federal Aviation Administration spokeswoman said the Eurocopter AS350 went down just after 7 p.m. The aircraft was owned by Liberty Helicopters, a company that offers both private charters and sightseeing tours popular with tourists. A phone message left with the company was not immediately returned.
The cause of the crash has not been determined.