Third Deadly Package Explosion in Austin
Authorities believe all three package explosions to be connected.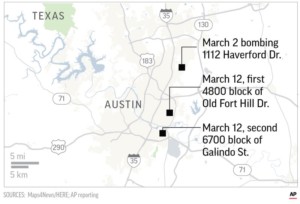 AUSTIN, Texas (AP) — Package bombs that killed a teenager and wounded two women Monday in Austin are probably linked to a similar bombing that killed a man in the city earlier this month, authorities said, and investigators are considering whether race was a factor because all of the victims were minorities.
The first of Monday's attacks killed a 17-year-old boy and wounded a 40-year-old woman, both of them black. As Police Chief Brian Manley held a news conference to discuss that blast, officers were called to the scene of another explosion that badly injured a 75-year-old Hispanic woman. She was taken to a hospital with potentially life-threatening injuries.
Authorities suspect that both of Monday's blasts are linked to a March 2 attack that killed a 39-year-old black man, and they urged the public to call police if they receive any unexpected packages.
The latest explosions happened during the South by Southwest music, film and technology festival, which brings about 400,000 visitors to Austin each year. The explosions happened far from the festival's main events, and there was no immediate word from organizers about additional safety precautions.
The three explosions occurred in different parts of Austin. Monday's first explosion happened at a home near the city's Windsor Park neighborhood and about 12 miles (20 kilometers) from the home where the March 2 package bomb killed 39-year-old Anthony Stephan House. His death was initially investigated as suspicious but is now viewed as a homicide.
Monday's second explosion happened in the Montopolis neighborhood, near the airport and about 5 miles south of the day's first blast.
"We don't know what the motive behind these may be," Manley said. "We do know that both of the homes that were the recipients of these packages belong to African-Americans, so we cannot rule out that hate crime is at the core of this."
Special Agent Michelle Lee, a San Antonio-based spokesman for the FBI, said the agency responded to both events and was assisting Austin police, who were leading the local investigation. She said the Bureau of Alcohol, Tobacco, Firearms and Explosives was leading the federal investigation.
A second package was discovered near the site of the initial Monday explosion, and some residents and media members were evacuated or pushed farther from the blast site as authorities determined whether it was a bomb, Manley said.
Police did not immediately identify the teenager who was killed. Manley said the woman who was injured in that attack is hospitalized.