Guess the Date of "Official" Snowmelt at Lutsen
Contestants Can Submit Their Vote up Until Midnight on Friday, March 23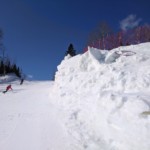 LUTSEN, Minn. – If you're counting down the final days before snow if officially gone, you may want to turn your attention to Lutsen Mountains.
Right now you have the chance to guess when the last pile of snow will melt.
This date will be determined on Mystery Mountain when the snow on the slopes fits within a standard sized hula hoop.
The winner of the contest will receive a season pass to Lutsen Mountains for the 2018/2019 season.
Marketing Director Jim Vick tells FOX 21, he's guessing the contest will run much later than what most people think.
Click here if you'd like to cast your vote.
Contest Rules & Conditions
One entry per person
All entries must be submitted by midnight on Friday, March 23
All entries must include an email address to qualify for entry, this is the manner in which we will contact the winner.
Beginning March 24th a picture will be posted weekly on the contest page and through Social Media outlets of the current snow status, once we are nearing the snowmelt day posts may be done in a higher frequency.
All entries must be made through contest page, entries made on social media will not be entered for a chance to win.
If the winner has pre-purchased an 18/19 Lutsen Mountains Season Pass they will be reimbursed for the purchased pass.