More Dogs Found in Home of Woman Charged With Animal Cruelty
More than 200 animals have been removed from the home.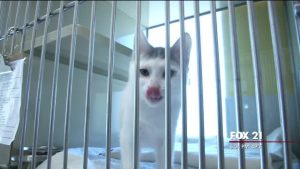 ROME TOWNSHIP, Mich. (AP) – A woman accused of animal cruelty after more than 200 animals were removed from her southern Michigan property has been arrested after authorities say they found additional neglected animals.
Sharon Kay Evans of Lenawee County's Rome Township was arrested Friday for violating an order not to possess animals.
Sheriff's officials say they acted on tips that Evans had dogs, and recovered more than a dozen after obtaining a search warrant.
A bond hearing is set for Monday.
The Associated Press left a message with the public defender's office, which is representing her.
Earlier this year, authorities removed roughly 200 dogs, 32 horses, five cats, two peacocks and a donkey from the property.
A not guilty plea was entered for her in January on a charge of felony animal cruelty.