Maryland High School Shooting Contained, People Injured
No fatalities reported at this time.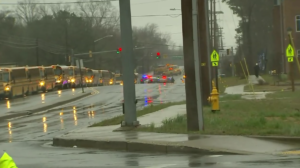 GREAT MILLS, Md. (AP) — A shooting caused injuries at a Maryland high school Tuesday morning, and authorities said the situation was "contained" as deputies and federal agents converged on the crime scene.
St. Mary's Couty Sheriff spokeswoman Cpl. Julie Yingling says there have been injuries, but she didn't know how many or the severity.
She said she had "no information" about potential fatalities.
The Baltimore Sun reported that a student said the shooting happened around 8 a.m. Terrence Rhames, 18, told the Sun that he heard a gunshot and saw a girl fall as he ran for an exit.
"I just thank god I'm safe," Rhames said. "I just want to know who did it and who got injured."
The St. Mary's County Public Schools said the situation was "contained" after the shooting at Great Mills High School, which has about 1,600 students and is near the Patuxent River Naval Air Station, about 65 miles (104 kilometers) southeast of Washington.
Agents with the FBI and the Bureau of Alcohol, Tobacco, Firearms and Explosives joined deputies at the scene.
The county sheriff said parents or guardians should stay away, urging them to go instead to Leonardtown High School to reunite with Great Mills students there.
Maryland Gov. Larry Hogan and Rep. Steny Hoyer tweeted that they're monitoring reports and urged people to follow the instructions of local law enforcement at the scene.
This latest shooting happened as many students are calling for action against gun violence in schools, leading up to Saturday's March For Our Lives rally in the nation's capital.
Protests have been spreading around the nation since a teenager with an assault rifle killed 17 people at a Florida high school on Valentine's Day.