Councilor Jay Fosle Addresses Controversial Statements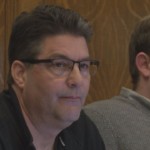 DULUTH, Minn. –  Duluth city councilor Jay Fosle read a prepared statement during Monday night's city council meeting in response to those who felt offended by comments he made toward a woman who was speaking at the podium in support of Earned Sick and Safe Time.  The woman talked about how her miscarriage from 31 years ago — at the age of 19 — could have been avoided if she would have had time to take off from work while pregnant.  Fosle responded by saying "People make choices in life. If you got pregnant at 19, you did that on your own."  Some in the crowd then replied with "wow' and "boo."  Fosle responded with, "Well that's too bad. Sorry you feel that way. But you made those choices. So that's what life is. Life is a choice."
Below is the word-for-word speech Fosle read to the council Monday night:
Nothing in my response is intended to offend anyone if you are offended by what I am about to read I am sorry.

I used the words that a person made a CHOICE in life and it offended this person. Ms. St. Germaine was offended by me saying it was a CHOICE that was made and that life is about CHOICES I am sincerely sorry that this statement offended you and I apologize for that.

Prior to being interrupted I was trying to make a comparison to her statement that ended tragically to the point that this Council will have to make a CHOICE which could be tragic to our local businesses in the Community.

I didn't know Ms. St. Germaine prior to this meeting and I was not attacking her. I was replying to her comments that she shared with Council while speaking at the podium which was her CHOICE!

Again if anyone is offended by this I am sorry.

I am not the first Councilor and definitely will not be the last to respond to speakers at City Council Meetings in fact many past and current Councilors have responded to citizen comments which is their CHOICE.

I would like to tell you all about CHOICES I have made in my life and some history that many don't know about me. You may listen or not that is your CHOICE.

My wife and I will be married 35 years this June, when we got married we started planning our future which included children our CHOICE.  A few years into our marriage my wife did get pregnant and we were so excited. Only to feel the pain possibly like Ms. St Germaine as my wife had a miscarriage but also she had to have part of her fallopian tube removed so please don't tell me that I am not sensitive to the situation. This now cut our chances for children in half. Being very family orientated this was devastating to us to imagine we may never have children of our own. After 10 years of several failed attempts we were introduced to a procedure called in vitro fertilization which we met with specialized doctors in Rochester & Minneapolis. We decided to try this procedure our CHOICE.  Long story short the procedure worked the 1st time and we became proud parents of twins a beautiful boy and girl in September 1993. Such an amazing time for us!

Five years after the twins were born in march of 1998 we received another huge surprise my wife got pregnant, naturally again we were super excited that the twins could have a sibling only to be devastated once again with another miscarriage. "Now twice the pain"

Now fast forward to when my twins were in their first year of college just turning 19 that fall. A short time into College my daughter said she needed to talk to us about something well guess what she was pregnant at 19 in which she made a CHOICE. We were excited and concerned all at the same time we didn't want her to jeopardize her schooling but also wanted to support the birth of a grandchild. We decided that we would do everything possible to help our daughter who worked hard on her own with hardly any help from us so she could continue with school and become a mother, and a registered Nurse! Her Choice.

After the last council meeting, when I was leaving council chambers, I was approached by several folks that were saying very harsh words to me.  I understand tempers flare in the heat of the moment and words are spoken that would normally not be said, so for that reason, I forgive them, but this needs stop.