Watch: Cleveland-Cliffs Inc., HBI Groundbreaking Ceremony in Toledo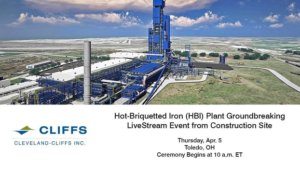 TOLEDO, Oh. – Cleveland-Cliffs is investing $700 million to build one of the world's most efficient and modern iron making plants.
The company is holding a live streaming event at the construction site this morning celebrating the new plant and the 130 news jobs they will be bringing to the Toledo area.
The plant is set to produce 1.6 million metric tons of customized high-quality HBI per year when completed.
The plant is the first of its kind in the Great Lakes region and is expected to be finished with construction by 2020.
To watch the live stream of the event click here.