Health Professionals Give Tips to Runners
Active Adventures: Gearing up for Grandma's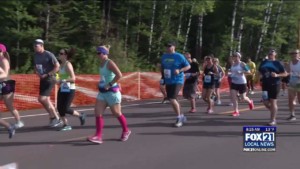 DULUTH, Minn. – There may still be snow on the ground, but it truly is Spring and Grandma's Marathon is just over two months away.
As runners get ready for race weekend, local health professionals are giving advice to the athletes.
Essentia Health is teaming up with Grandma's Marathon for the prerace seminar Gearing up for Grandma's.
It's taking palce Saturday, April 7th featuring keynote speaker, Dick Beardsley.
This is a free event from 10 a.m. to 12 p.m. at Essentia Health Duluth Clinic First Street Building.
The seminar is a valuable training resource for both first-time and veteran runners.
Grandma's Marathon will be offering a free group 5K run with Dick Beardsley acting as the official starter and finish line greeter prior to the seminar.
The group run begins promptly at 8:30 a.m. and starts and finishes in the lobby of the Essentia Health Duluth Clinic First Street Building.
All abilities are welcome and encouraged to attend.
For the third year, Grandma's Marathon will be live-streaming the event on the Grandma's Marathon Facebook page for those unable to attend in person.
The live event will give people worldwide access to the seminar information via www.facebook.com/GrandmasMarathon.
Grandma's Marathon Weekend, June 14-16, is presented by Toyota and Members Cooperative Credit Union.
For more information or to register for weekend events, please visit grandmasmarathon.com or call (218) 727–0947.