Residents in Grand Rapids Region Voting on School Referendum Today
Voters Have Until 8 p.m. to Cast Ballot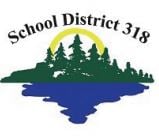 GRAND RAPIDS, Minn.-Today residents who live in the Independent School District 318 region (which includes Grand Rapids, Cohasset, and Bigfork) will have their voices heard about referendums to the school district there.
Voters have until 8 p.m. to cast their ballot.
Below are the two ballot questions that will be asked.
BALLOT QUESTION 1 (cost $68.9 million):
Build two new neighborhood elementary schools in Grand Rapids to replace the three existing schools, some of which could be repurposed for early childhood education. Renovate and expand at Cohasset elementary, which includes adding city-sponsored community and wellness center space.
BALLOT QUESTION 2 (cost $5 million):
Make improvements to local activity and athletic facilities to meet the health, safety, and space needs of ISD 318 students. This includes a locker room addition and weight room improvements at Bigfork School and installing turf at Noble Hall, Legion Field, and the practice field at Grand Rapids High School.
Ballot Question 2 can only pass if Question 1 is approved.
Tune in to Fox 21 at 9 p.m. to get the latest results.