Superior Cooper Elementary School Fire Update
The Cause of the Fire is Still Undetermined but Arson is not Suspected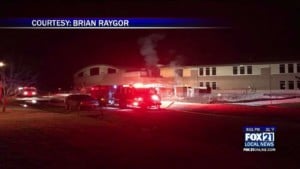 SUPERIOR, Wis. – New information has come to light regarding the Sunday night and Monday morning fires at the Cooper Elementary School in Superior.
Authorities say they believe the original Sunday evening fire started in the gym storage room and burned through a one inch flex rubber natural gas line.
Gas that was flowing from the school's boiler room reached the heat from the blaze causing the explosion that occurred shortly after crews began work to extinguish the fire.
Fire crews were able to contain the initial fire, however nine hours later a second fire ignited on the school roof.
The roof fire was contained around 11 a.m. on Monday morning and caused an estimated additional half a million dollars in damage.
Damage totals have been estimated around $1.5 million dollars.
Nobody was hurt in the fires or explosion and neighboring schools did not need to evacuate.
The new school was scheduled to open next fall.
The cause of the fire is still undetermined but arson is not suspected.