Precautions Announced in Western Neighborhoods of Duluth Due to Refinery Fire
City Officials Will Continue to Monitor the Situation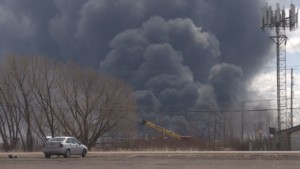 DULUTH, Minn.-St. Louis County and the city of Duluth are issuing a shelter in place advisory for the western portion of the city of Duluth. While reports from Superior indicate the fire has been suppressed, this precautionary advisory is based on consultation with St. Louis County and the National Weather Service.
This advisory applies to the Fond du Lac neighborhood east to the ore docks in West Duluth and to the top of the hill.
The National Weather Service expects winds to shift over the next few hours. This may result in some residual smoke plume entering the western neighborhoods. Residents with health concerns are advised to close windows and doors and stay indoors overnight as residual smoke from the refinery fire in Superior could be a respiratory irritant if inhaled.
City officials will continue to monitor the situation and will provide updates throughout the evening until this situation is resolved.