Multiple People Hurt After School bus, Dump Truck Crash in New Jersey
Mount Olive Mayor Says 'It's a Horrific Scene'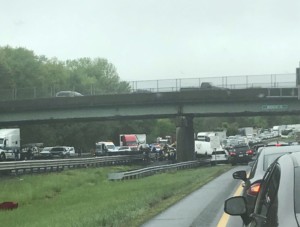 MOUNT OLIVE, N.J. (AP) — A school bus and dump truck collided on a New Jersey highway Thursday, ripping apart the bus, knocking it on its side and injuring multiple people, according to police.
The school bus was on the median of Interstate 80 in Mount Olive and the front end of the bus appeared to be crushed or ripped off. It was also sheared off its undercarriage and a piece of the front end of the bus with the steering wheel visible was laying on top of the metal barrier separation the highway from the median.
A red dump truck with a mangled front end was parked along the highway nearby.
The school bus had markings for the Paramus School District. A fifth grade class trip from the district was scheduled for Waterloo Village, a historic site about 5 miles away from the crash scene. A school district official said its superintendent was preparing a statement.
Hackettstown Police Sgt. Darren Tynan told The Record that multiple people were taken to a hospital after the accident about 50 miles west of New York.
State police said that an unknown number of children were on the bus and they don't know how serious the injuries are. It wasn't immediately known how many people were on the bus or in the truck.
"There's an incredible emergency response from throughout Morris County and by State Police. It's a horrific scene," Mount Olive Mayor Rob Greenbaum told The Record.
Morristown Medical Center spokeswoman Elaine Andrecovich said they have received some people from the accident, but she did not have a number available and could not say how many were children.
About 10 victims were taken to St. Clare's Dover Hospital and St. Clare's Denville Hospital, according to Communications Director Patty Montgomery. She said they're being evaluated and treated, but she does not have ages or conditions.