Trump Urges Nations to Cooperate on Immigration
Trump Accuses Countries of Failing to do Enough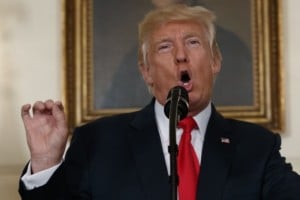 WASHINGTON (AP) – President Donald Trump says he's working on a plan to deduct aid from countries that don't cooperate with U.S. immigration authorities and refuse to accept deportees.
Trump says during an immigration roundtable on Long Island that every time someone tries to come into the U.S. illegally from one of the countries that receives aid, "We're going to deduct a rather large" amount of money.
He adds that, "We're looking at our whole aid structure."
Trump has previously accused countries like Mexico of failing to do enough to help the U.S. prevent illegal border crossings.