Haley Says US Will Leave UN Human Rights Council
Haley is Announcing the Withdrawal at the State Department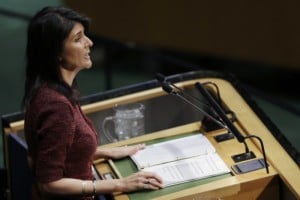 WASHINGTON (AP) – Ambassador Nikki Haley says the United States is withdrawing from the U.N. Human Rights Council, calling it "an organization that is not worthy of its name."
Haley is President Donald Trump's envoy to the United Nations. She says a year ago she made clear the U.S. would stay in the council only if "essential reforms were achieved."
She says it's clear those calls for change were not heeded.
Haley is decrying the membership of countries like China, Cuba and Venezuela that are themselves accused of rights violations. She says the council also has a "chronic bias against Israel."
But Haley says that if the council does reform, the United States "would be happy to rejoin."
Haley is announcing the withdrawal at the State Department alongside Secretary of State Mike Pompeo.