Bemidji Cleaning Up Damage From 4th of July EF-1 Tornado
100mph Winds Tore Through Early Morning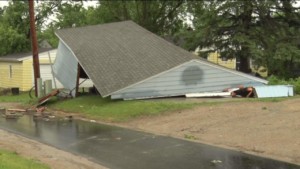 BEMIDJI, Minn. (AP) – The northern Minnesota city of Bemidji is cleaning up the damage from a Fourth of July tornado.
The National Weather Service says the EF-1 tornado touched down just west of Bemidji State University just before 6:30 a.m. Wednesday.
It packed winds of 100 mph and caused significant damage to buildings and trees along a path seven-tenths of a mile long and 200 yards wide during its minute on the ground.
Beltrami County Emergency Management Director Christopher Muller says nobody was injured, but the damage included a garage that was moved off its foundation.
Straight-line winds also damaged a wide area north and south of the path.
Mueller says Bemidji barely got its power back on after last week's severe weather before Wednesday's storms hit. He says it's "getting really old."