Superior Street Construction Update
Construction Reaches a Milestone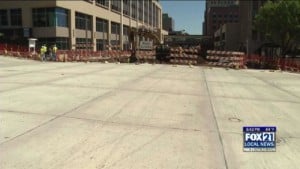 DULUTH, Minn.- Mayor Emily Larson and city officials comment on the progress Northland Construction has made on Superior Street and celebrate the reopening of the 5TH Avenue West intersection.
The intersection is a major pathway into the downtown Duluth area from Canal Park.
"This is the first of many celebrations we will be having as we slowly move across downtown," Larson told the public.
Kristi Stokes with the Greater Downtown Council was eager to thank the businesses downtown for their patience and the team that has worked on the project.
"This is a team effort to make this project a success," Stokes said.
Northland Construction briefly commented on the appearance they've made downtown and the enjoyment they share with those interested in the project.
Also speaking on the topic was Chief Administrative Officer for the city, Dave Montgomery, who told Fox 21 that the opening of 5TH Avenue West should help the traffic congestion from the Mesaba project.
"Folks have been wonderful in adapting to finding different routes."
If you are interested in more information on the Superior Street Reconstruction project, or would like to stay updated on its progress, follow the link here: http://www.superiorstreet.org/