Powerful Storms Cause Floods and Wash out Minnesota Roads
There Were Roughly 1,500 Strikes During a 15 Minute Span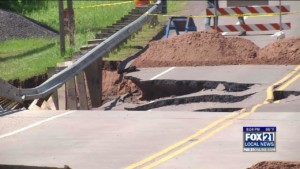 MORA, Minn. (AP) – Powerful overnight storms dumped significant amounts of rain in northeast and east-central Minnesota, leading to floods and washed-out roads in some areas.
The National Weather Service says between four to seven inches of rain fell by Thursday morning from the Lake Mille Lacs area southeast to Mora, roughly 70 miles north of the Twin Cities.
Flood warnings are out in parts of east-central Minnesota.
The agency says the downpour was accompanied by a powerful lightning storm that saw some 1,500 strikes during a 15-minute span.
The torrential rain is now causing the Mississippi River to rise in Aitkin, as well as the Snake River near Pine City.
The weather service also says a tornado briefly touched down near Red Lake Wednesday night. No significant damage was reported.