Chemical Safety and Hazard Investigation Board Provide Update on Husky Explosion, Fire
Husky COO Says Expenses Have Totaled to $41 Million USD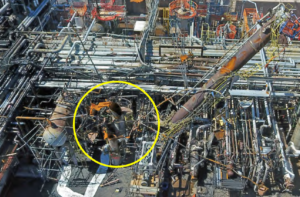 SUPERIOR, Wis. – The U.S Chemical Safety and Hazard Investigation Board has provided a factual investigative update regarding the April 26 Husky Superior Refinery explosion refinery.
In the updated findings the report states the explosion occurred in the refinery's Fluid Catalytic Cracking Unit while it was being shut down for periodic maintenance and inspection. At that time many workers had moved into blast resistant buildings for scheduled breaks and had moved away from the process unit prior to the explosion.
Disassembly and evaluation of the spent catalyst slide valve revealed internal wear that could have allowed catalyst flow through the valve even when the valve was in the closed position.
According to the report 36 people sought medical attention as a result of the explosion, including eleven refinery and contract workers who suffered OSHA recordable injuries.
The report also found that debris from the explosion punctured an above ground storage tank that housed about 50,000 barrels of asphalt. When the side of this steel tank was punctured it released over 15,000 barrels of hot asphalt into the refinery resulting in a large fire about two hours after the initial explosion.
Firefighters extinguished the asphalt fire by 9:00 p.m. that evening with no incident to the highly toxic hydrofluoric acid equipment at the refinery.
Husky Energy COO Rob Symonds says that the damages caused by the fire add up to nearly $21 million USD with total expenses putting them at $41 million USD. He also adds that the Superior refinery should be running normal operations within 18 to 24 months.
The CSB investigation is ongoing; however CSB officials are presenting an update to the investigation at a private press conference Thursday morning. We will have more details regarding this press conference and CSB findings tonight at 5:30 p.m.