Congressional Leaders Want Public Meeting on Husky Explosion
They Have Requested a Fall Public Meeting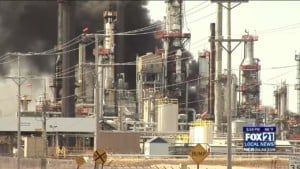 WASHINGTON, D.C. – Several Democratic Congressional leaders from Minnesota and Wisconsin are now calling on Husky Energy to hold a public meeting this fall.
They want Husky leaders to talk more about the use of hydrogen fluoride at their Superior refinery.
It was back in April when an explosion there injured 36 people and caused a mass evacuation.
U.S. Senator Tammy Baldwin from Wisconsin along with four Legislators from Minnesota including Eighth District Congressman Rick Nolan all signed the letter asking for more transparency with the investigation.
The Superior refinery does have a tank containing hydrogen fluoride.
It's a chemical compound that can be extremely dangerous if released into the air. Something that did not happen during the explosion.