Police Boost Security at Capitol Amid Tension Over Kavanaugh
Some Senators Using Police Escorts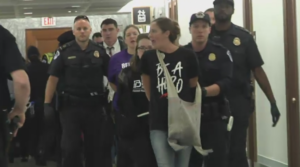 WASHINGTON (AP) – The impassioned fight over Brett Kavanaugh's nomination to the Supreme Court has led to heightened security at the Capitol, with some senators using police escorts to shield them from protesters.
Capitol police have arrested dozens of protesters in recent days and stepped up their presence in Capitol hallways.
Some Republican senators have expressed unease over protesters who have confronted them at their Senate offices, restaurants, airports and even their homes.
Republicans discussed security matters behind closed doors earlier this week at a private lunch.
Senate Majority Leader Mitch McConnell said in a floor speech Wednesday that senators will not be intimidated from doing their jobs, declaring: "There is no chance in the world they're going to scare us out of doing our duty."