College of St. Scholastica Institutes Test-Optional Admissions Policy
Applicants can Still Submit Scores if They Choose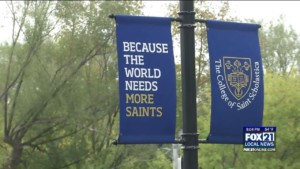 DULUTH, Minn. – The College of St. Scholastica will no longer require the ACT or SAT standardized tests as part of its application for admission.
According to a Friday press release the change was made official on Thursday October 11 by a vote of St. Scholastica's Faculty Assembly.
"This new policy reflects our commitment to access and to an admissions process that considers a full range of measures in order to assess a student's optimal potential for success at the College," said Dr. Colette Geary, St. Scholastica President. "National studies have shown that the best predictor of college success is a high school student's curriculum and GPA. We have also studied our own internal data, which indicates that high school GPA is a stronger predictor of persistence to graduation than a standardized test score."
More than 1,000 four-year colleges and universities are also moving away from requiring standardized tests for admissions and that number is steadily growing.
St. Scholastica says applicants are still able to submit their ACT or SAT scores if they choose.