Essentia Health Receives Level 1 Trauma Verification
It's the Regions First and Only Hospital to Receive the Verification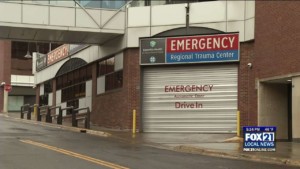 DULUTH, Minn. – Essentia Health-Saint Mary's Medical Center in Duluth is in a class of its own.
It's the first and only hospital in the region to receive verification as a Level I adult trauma center.
Essentia Health is now one of 134 adult trauma centers in the country.
The journey to earn this verification has taken six years, but staff says they have always provided a high level of care to patients and are happy with the recognition.
Falls are the number one type of trauma cases at Essentia, and depending on the seriousness of an injury it can take a 15 person team to treat a patient.
In 2017, Essentia Health had more than 1,600 trauma cases.
Hospital employees believe team effort played a major role in receiving the verification.
"It's really not hand offs from one group to another. It's handovers where all of us are communicating with each other and making sure that the patient is the focus of our care. From the time they're injured all the way to their journey of recovery and getting back home and the things they love to do," says CEO of Essentia Health, Dr. David Herman.
The American College of Surgeons did the verification.
It's an extensive process that includes a committee of surgeons visiting the hospital and checking operating rooms and the helicopter landing pad.
Essentia Health leaders say with this verification, patients and their families can have a peace of mind knowing they're receiving the best care and are close to home.
Trauma Program Manager, Linda Vogel says, "It improves the quality of service that we provide by really adding those arms of the surgical residency program. It keeps our surgeons invested in education and doing best practices and being able to teach and also learn."
The verification lasts for three years and then a team will come back to review the Essentia Health-St. Mary's Center and offer feedback.
The pediatric trauma center was also re-verified.
Essentia says this will be an ongoing process and will continue its commitment to patients.