Harrowing Tales Emerge From Synagogue; Suspect due in Court
Statistics Show Anti-Semitism has Been on the Rise in the U.S.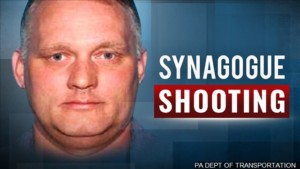 PITTSBURGH – A rabbi who helped alert authorities to the synagogue shooting that killed 11 people says it was because of recent security training that he had a cellphone on him and was able to make the call.
Rabbi Jeffrey Myers of the Tree of Life in Pittsburgh said Monday on ABC's "Good Morning America" that he hadn't always carried a cellphone on the Sabbath.
But he says a security expert had told him in August that he was living in a new era and needed to carry it.
Myers says that he spent 20 minutes on the phone with authorities and that it "felt like an eternity."
Survivors are recounting the terror of hiding in a dark closet during the massacre that killed 11 at a Pittsburgh synagogue and asking why the gunman blames them for the world's problems.
Barry Werber says members of the synagogue's New Light Congregation were in the basement and beginning to pray when they heard crashing coming from upstairs. They looked out and saw a body on the staircase.
Werber says he called 911 but was afraid to say anything for fear of making noise as gunshots echoed upstairs.essed hatred toward Jews during the rampage Saturday and in later comments to police.
Shooting suspect Robert Gregory Bowers is due in federal court Monday. Authorities say he expressed hatred towards Jews during the rampage Saturday and in later comments to police.
U.S. Attorney Scott Brady says federal prosecutors intend to pursue the death penalty.