Duluth Fire Chief Resigns, Accepts Demotion After DWI Arrest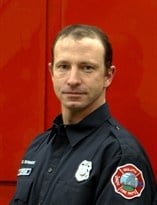 DULUTH, Minn.- Duluth Fire Chief Dennis Edwards submitted a letter of resignation Friday after a being arrested on charges of driving while intoxicated last month.
Edwards will stay with the department in a demoted position of assistant fire chief.
"This week, Mayor Emily Larson and I received and accepted a letter of resignation from Dennis Edwards as Fire Chief of the Duluth Fire Department. Effective immediately, Deputy Chief Shawn Krizaj is serving as Interim Fire Chief. In accordance with the union contract, Dennis Edwards will revert back to the position he held prior to being appointed Fire Chief. The City of Duluth thanks Dennis Edwards for his service as Fire Chief for the City of Duluth." – Chief Administrative Officer, Noah Schuchman.

Duluth fire chiefs and assistant fire chiefs are required to have a valid drivers license.
Interim Chief Shawn Krizaj will continue in that role for now.
According to a criminal complaint filed in St. Louis County Court, Edwards was pulled over on March 30 at approximately 11:40 p.m. after a St. Louis County deputy observed an SUV heading northbound on Rice Lake Road attempting to pass a vehicle in a no-passing zone.
The deputy performing the traffic stop stated he detected a strong odor of alcohol and observed Edwards' eyes were glossy and bloodshot.
Edwards had a blood-alcohol content almost three times the legal limit at .22 when pulled over.
According to court records, Edwards made his first appearance in court Thursday morning.