AP Analysis Finds Growing Number Of Poor, High-Hazard Dams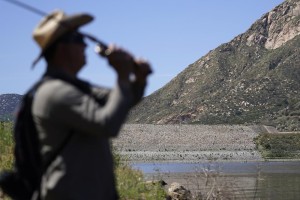 Constructed four generations ago, the massive rock and clay dam at El Capitan Reservoir is capable of storing over 36 billion gallons of water, enough to supply every resident in San Diego for most of a year.
Today, it's three-quarters empty, intentionally kept low because of concerns it could fail under the strain of too much water.
During "a big earthquake, you never know what's going to happen, if this is going to hold," said Samuel Santos, a longtime resident who frequently fishes near the dam.
Seismic instability and a spillway in need of "significant repair" led El Capitan to be added to a growing list of dams rated in poor condition or worse that would likely cause deaths downstream if they failed.
An Associated Press analysis tallied more than 2,200 high-hazard dams in poor or unsatisfactory condition across the U.S. — up substantially from a similar AP review conducted three years ago. The actual number is likely even higher, although it's unclear because some states don't track such data and many federal agencies refuse to release details about their dams' conditions.
The nation's dams are on average over a half-century old and often present more of a hazard than envisioned when designed because homes, businesses or highways have cropped up below them. Meanwhile, a warming atmosphere can bring stronger storms with heavier rainfall that could overwhelm aging dams.
"All of a sudden, you've got older dams with a lower design criteria that now can potentially cause loss of life if they fail," said Del Shannon, an engineer who is president of the U.S. Society on Dams.
"The number of deficient, high-hazard dams is increasing," he said, adding that without investment in upgrades, that number will continue to rise.
Decades of deferred maintenance has worsened the problem. But a changing climate and extreme floods — such as the one that caused the failure of two Michigan dams and the evacuation of 10,000 people in 2020 — have brought a renewed focus to an often overlooked aspect of America's critical infrastructure.
The $1 trillion infrastructure bill signed last year by President Joe Biden will pump about $3 billion into dam-related projects, including hundreds of millions for state dam safety programs and repairs.
It marks "a tremendous leap and jump of funding," said Kayed Lakhia, director of the National Dam Safety Program at the Federal Emergency Management Agency.
Yet it's still just a fraction of the nearly $76 billion needed to fix the almost 89,000 dams owned by individuals, companies, community associations, state and local governments, and other entities besides the federal government, according to a report by the Association of State Dam Safety Officials.