Home And Garage Total Loss After Fire In Clinton Township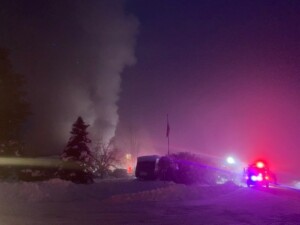 CLINTON TOWNSHIP, Minn. — A man has lost his home and garage after both caught fire early Saturday morning in the Clinton Township, which is south of Virginia on the Iron Range.
According to the St. Louis County Sheriff's Office, the homeowner called 911 just before 5:30 a.m. after seeing heavy smoke and fire.
It appeared that the fire may have started in the garage and spread to the house, which are both total losses.
No one was hurt, and the homeowner was the only one on the property.
Multiple fire departments responded to the scene.
It's unclear what the cause was, which will be investigated by the Sheriff's Office and Minnesota Fire Marshal's Office.