Unarmed Man Arrested After Making Threats To Shoot Up Duluth Airport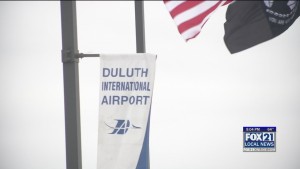 DULUTH, Minn. — A man is behind bars after making threats to shoot while at the Duluth International Airport Tuesday morning.
The Duluth Police Department says the incident happened at 8:30 a.m. when a 51-year-old man from Virginia was supposedly suffering from a mental health issue and making threats to shoot.
Police set up a perimeter when they got there, but the suspect had left the area. He later returned and police were able to arrest him.
The DPD's public information officer later confirmed the man was unarmed.
Authorities say no one was injured and the man is at the St. Louis County Jail on pending charges of Threats of Violence.