Duluth Police Merge Two Units To Address Mental Health And Substance Use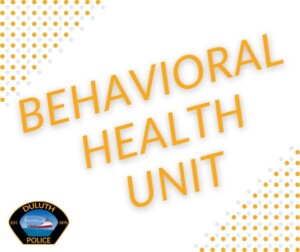 DULUTH, Minn. — The Duluth Police Department has merged its unit that focuses on mental health and the one it has that addresses substance use to form its new Behavioral Health Unit.
The department acknowledged that the mental health and substance use make up a significant portion of emergency calls.
"Substance use and mental health conditions often go hand-in-hand," Lieutenant David Drozdowski said in a press release. "In order to better serve our community members, the decision was made to combine CORE and SURT under one umbrella."
Under this collaboration, the new unit has a three police officers, a lieutenant, a sergeant, a registered nurse, a licensed independent clinical social worker, four peer recovery specialists, and three licensed graduate social workers.
"The holistic approach of enforcement, recovery, and education/prevention allows us to provide resources to those in need," Chief Mike Ceynowa said in a press release. "Resources include recovery support services, harm reduction services, access to mental health facilities, withdrawal management, and more."
If you want to reach out to the members of the Behavioral Health Unit, click here.