WI State Sen. Bewley Will Not Be Charged In Ashland Double-Fatal Crash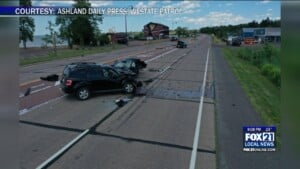 ASHLAND, Wis. — No charges will be filed in an Ashland car crash in which two people died.
Last July, a mother and daughter died when their car that was speeding at 100-miles-per-hour hit two other cars.
One of the vehicles was driven by Wisconsin State Senator Janet Bewley.
Bewley had pulled out onto U.S. Highway 2, and was hit by the oncoming vehicle, which then collided with a third vehicle.
In its review of the case, the Ashland County Attorney's office said there is no evidence beyond a reasonable doubt that any criminal statute was violated.
The report says that when Bewley pulled out, she was talking to a reporter on a cellphone in hands-free mode, and that there is no indication she was distracted.
The report also indicated that although Bewley had an eye operation the day before, there were no restrictions on her driving, and no indication her eyesight was impaired.
Bewley told investigators she saw the oncoming vehicle in the distance, but thought it was safe to pull out with a speed limit of 45-miles-an -hour.
The county attorney's office said factors in the crash were the speed of the oncoming vehicle, and the ability of Bewley to perceive that speed.