Former Wisconsin Governor "Tony" Earl Dies At 86
The state's 41st Governor had a stroke last weekend and passed away today.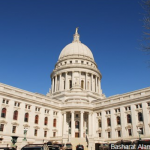 Former Wisconsin Governor Anthony "Tony" Earl died today after suffering a stroke over the weekend. The announcement came from current Governor, Tony Evers. Evers said Earl had been hospitalized since the stroke, and had been surrounded by his close family. Earl was 86.
Earl was governor from 1983 to 1987.
You can read Evers full statement and background on Earl here.