Police Arrest Man Who Barricaded Himself In Tri-Towers Apartment Complex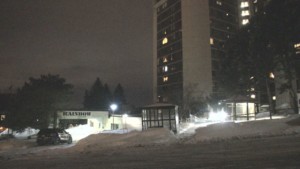 DULUTH, Minn. — Duluth police say they arrested a man on Tuesday who barricaded himself in the Tri-Towers apartment complex.
Officers were called out at 4:45 p.m. for a man who was making threats to a woman believed to be with him inside the building.
Some apartment units nearby were evacuated as officers tried to negotiate with the man to come out.
After the Crisis Response Team and Tactical Response Team tried to negotiate with the man several times to no avail, the Tactical Response Team forced their way in.
No woman was found inside.
The 54-year-old suspect was taken to a hospital and will then get booked into the St. Louis County Jail.
He faces several charges, including disorderly conduct, obstruction, and making threats of violence.