Nurses Week Comes Amidst Legislative Debate
Duluth Nurses Push Current Bill; Oppose Any Changes by Hospitals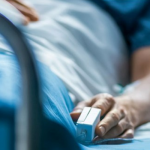 DULUTH, Minn. – The stakes are high in Minnesota as national Nurses Week continues.
A legislative fight is underway at the state capitol over what is called the "Keeping Nurses at the Bedside Act."
That fight came to the Duluth Labor Temple Tuesday. Nurses and their union representatives said Minnesota hospitals are not following parts of the agreement reached during their last contract negotiations. The nurses group said they are submitting a list to hospital officials that outlines what they describe as "dire situations" that now exist.
"We are imploring our elected officials in St. Paul to not bend to the blackmail tactics from Mayo Hospital and the Minnesota Hospital Association," said Chris Rubesch, an RN at Essentia, and Vice President of the Minnesota Nurses Association.  "As soon as we are done with this press conference today, each one of us is going to be calling the governor and urging him to stand with us and stand with the patients of Minnesota, demanding that the bill be passed intact by the legislature and delivered to him unchanged," Rubesch said.
At the press conference, Mayor Emily Larson declared it "Nurses Week" in Duluth. Larson, who is running for re-election, included in her proclamation many of the issues nurses and their union raised during contract negotiations, and during the current debate in St. Paul. Nurses Week ends on May twelfth, which is Florence Nightingale's birthday.
"As I watch the nurses who helped shape me retire, I look toward to the next generation of nurses joining the fold," said Lisa Hultstrom, an RN at St. Luke's. "I am energized when I reflect on the history of nurses. Conjuring up names like Clara Barton, founder of the American Red Cross. Hildegard Peplau, a nurse theorist whose work became integral in psychiatric nursing.  And Mary Eliza Mahoney, the first female, African American nurse licensed in the U.S., earning her license in 1879 as one of only three of forty that graduated from her program," Hultstrom said.
On Friday, Enger Tower will be lit red, in recognition of both Nightingale, and the end of Nurses Week.