Fox Along the North Shore; Waterfalls and More
Area photographer helps Meteorologist Ken Slama get started behind the lens.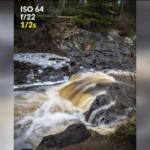 This week for Fox Along the North Shore: Waterfalls and More, Fox21 Meteorologist Ken Slama was at the falls and river at Lester Park with photographer Joe Polecheck.
They talked about tips and advice on how to photograph waterfalls.
There are dozens of waterfalls to choose from. Starting in Duluth and heading all the way to the northeastern tip of Cook County and the Canadian border.
"There's one nice thing about it. There's a little bit of a recipe to it that you can follow and adjust from there to get the pictures to your liking," said Polecheck.
Walking along the river trail, we asked Joe how he decides to stop, and where. What is he looking for before he sets up?
"Whenever I'm looking, I want to make sure that I'm getting a little bit of the cascading water coming down obviously, even if it's just kind of a smaller elevation," said Polecheck.
"And then right there you can see where it's kind of starting to churn up, and a little bit of that, almost the foamish aspect to it. That way when you're taking a picture that's going to be a fast shutter speed…you're going to catch it just as it looks," he said.
Polecheck then looked through his viewfinder and clicked the shutter. Viewing the image, he said, "So this is going to be 1/100 of a second…you can see there, that's getting everything. You can see even the individual little droplets of water that are right in there."
"Another technique that photographers will use is a little bit longer of an exposure where the shutter actually stays open a little bit longer. And that's how you get the motion captured of the water. That's when you see kind of the streaky, almost milky looking water," explained Polecheck.
After years of taking photographs, Polecheck has some preferences. "One I like to do is generally about under a second for the shutter speed. And what it does, it still captures a lot of that motion that you're going to see. But some of the churning where it hits and is coming back up, for what I do in that brief in-between shutter speed, it captures almost the spray…like you're going to see it coming up almost like sparks."
With the amount of water this time of year, safety is something to keep in mind if you head out for photographs. Extra care is also needed because if you do slip into the water or off a rocky ledge, there is a lot of force with the water that is moving down the creeks and the rivers. But with enough precaution and common sense, it is definitely a very exciting time to get out and check out the waterfalls.