On the Menu: Mother's Day Buffets
Lincoln Park restaurant hopes its barbeque and more will give moms a break.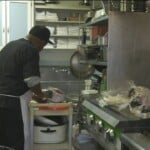 DULUTH, Minn. — The day for celebrating and showing love for your mom is coming up on Sunday.
Many restaurants across the region are getting ready for their Mother's Day Buffet. One of those is Howard's Que in Lincoln Park. Friday, owner Howard Ross and his crew were fine-tuning things for another year. He gets a lot of joy seeing smiles on the faces of moms and their families, and he likes to help make that happen.
"Encourage the families out here to enjoy their mothers, and give the mothers a break, every year," Ross said.  "And we do a pretty good spread out here for the mothers. Turkey, ham, ribs, rib tips. We have pork loins. We have all types of salads. It's a buffet of all your favorites."
Ross says the smoked turkey is a must, and they have three of them this year. The Que, located inside the All American Club, is serving from 10:30 a.m. to 2 p.m. on Sunday, and reservations are recommended.