Duluth's "Other" Train Back on Tracks in July
L.S.&M. Railroad Excursion Soon Back to Showcasing Beauty of St. Louis River Surroundings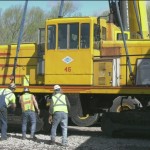 The Lake Superior & Mississippi Railroad will soon be back on the tracks. It looks a little quiet right now, but things will definitely be picking up as they get ready to reopen in July.
During a three-year pause, they've been working on everything from improving the tracks to refurbishing authentic rail cars.
They have a ninety-minute round-trip that goes along the St. Louis River and estuary.
The rides came to a halt due to Covid-19, and two years of environmental clean-up work required after decades of damage left behind by industries.
But the L.S.&M. used that time to update more than just the railroad part of their experience.
"What is the narration, what are the stories we want to tell? Some were a little dated," said David Bolgrien, Board Chairman of the L.S.&M.
"Now that we have the new clean-up sites that are so visible to people, they're going to wonder. And we want to make sure they have the information that they need to really appreciate what they're seeing. So those three big areas we've spent a lot of time, you know, maintenance of our engine, our cars, our track, and then kind of upgrading our storytelling," Bolgrien said.
Bolgrien said the train will show off a hidden gem in the region.
"We can talk trains with anyone, but it's that bigger experience of coming to see the river, and that's what we offer and that's what makes us a special addition to tourism in Duluth. But also the residents. A lot of the people who live in western neighborhoods really haven't experienced the river. You know, having a Superfund site kind of says, 'Don't go there.' And that's changing. And we're still part of that change, and we're doing our thing. Bringing people to the river, and we're very proud to do that," Bolgrien said.
The railroad and its supporters will continue putting finishing touches on everything as they get ready for the reopening in July.
You can get schedule and ticket information at LSMRR.org